Before starting this review it needs to be said that this is a review of a beta version of this game. The retail version will be released in a couple of weeks time. This review is based on beta 2 and there are still at least two beta versions to be released plus the final version. Therefore changes and improvements are inevitable. When these changes and improvements are clear I ill add them to the review where needed.
Secondly I want to state that I am a player of these kind of games who likes to get on with it. I want to play cricket with it, albeit in a particular form that is characteristic of this kind of management style game. I don't necessarily want to edit all kinds of things or make things unnecessarily complicated. This means of course that some of the features have not really been thoroughly researched by me.
Thirdly pictures speak a thousand times more than words but I have decided not to overwhelm people with a massive stream of screen-shots, pretty though they may be. A demo version will be available shortly so that one can for themselves see what the possibilities are and what it all looks like. However I will touch on a number of these features as there are plenty of people who crave those possibilities.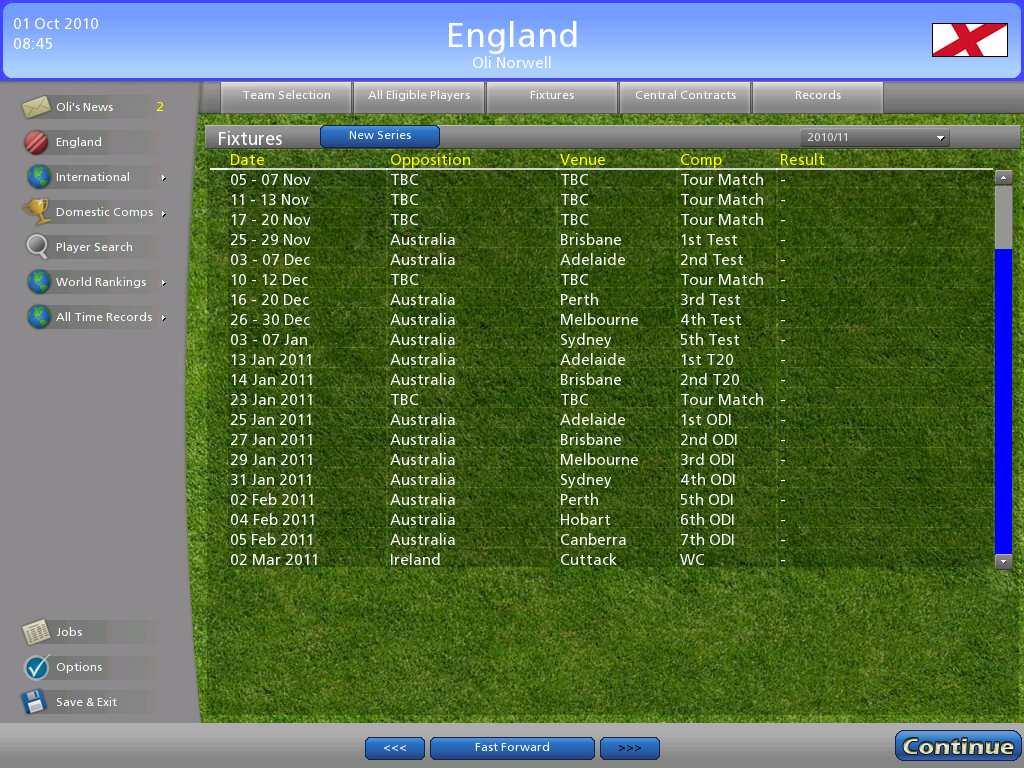 What I love about Cricket Coach 2011 is its statistical depth. The amount of statistics and cross references to other statistics you can pull up and keep and look at now and then is truly amazing and a great joy! Cricket is to a certain extent all about statistics. No other sport analyses statistics as much as cricket. Do they really mean anything? That is open to debate, but that we love looking at them and drawing our conclusions from them is one of the joyful things about the sport and Cricket Coach 2011 is a true heaven for those who love their stats!
For those who love to edit things, this game is as editable as anything out there. Everything is editable: players, tours, competitions, grounds histories,every single statistic imaginable. If you want to create leagues or re-organise all the domestic leagues and competitions in a given country, you can do so! Do you want to create a new team, a new ground, a new competition? Here is your chance to do so! If you are such a megalomaniac you can even create a team where you are in every single position, with the highest possible abilities in the history of the game!
Of course that is fun but we all want more than anything realism. Does Cricket Coach 2011 deliver that? In terms of players and competitions, definitely. The 2011 database is fully updated although it is an ongoing task to ensure that it is truly reflective of current circumstances. Being highly editable it is easily corrected anyway. A new feature this time round is the ability to play with and against historic teams. You can set up a series or a match against teams who have graced the field of cricket in the past and see how they get on with each other. Want to re-live those classic West-Indies against England battles of the eighties. Now you can. How would the England team of the nineties fair against the great Australian sides of the 1930's and 1940's fair? Give it a go!
This is all very well, but what about when actually playing the game, whatever players and statistics you use? What about the cricket itself? One of the criticisms of Cricket Coach in the past has been the unstable engine that produces the results. Freak results and situations would occur at alarming intervals and regularity, spoiling the realism for many. It has to be said that this has not been ironed out completely yet although a lot has been done in this regard and it is definite one of the main focus points in the remaining beta phase.
My own experience is that the game is smoother and more realistic and much more dependant on my input as a player rather than randomness or utter predictability. Somewhere choices have to be made between these two extremes and it is difficult to get it exactly right to everyone's taste.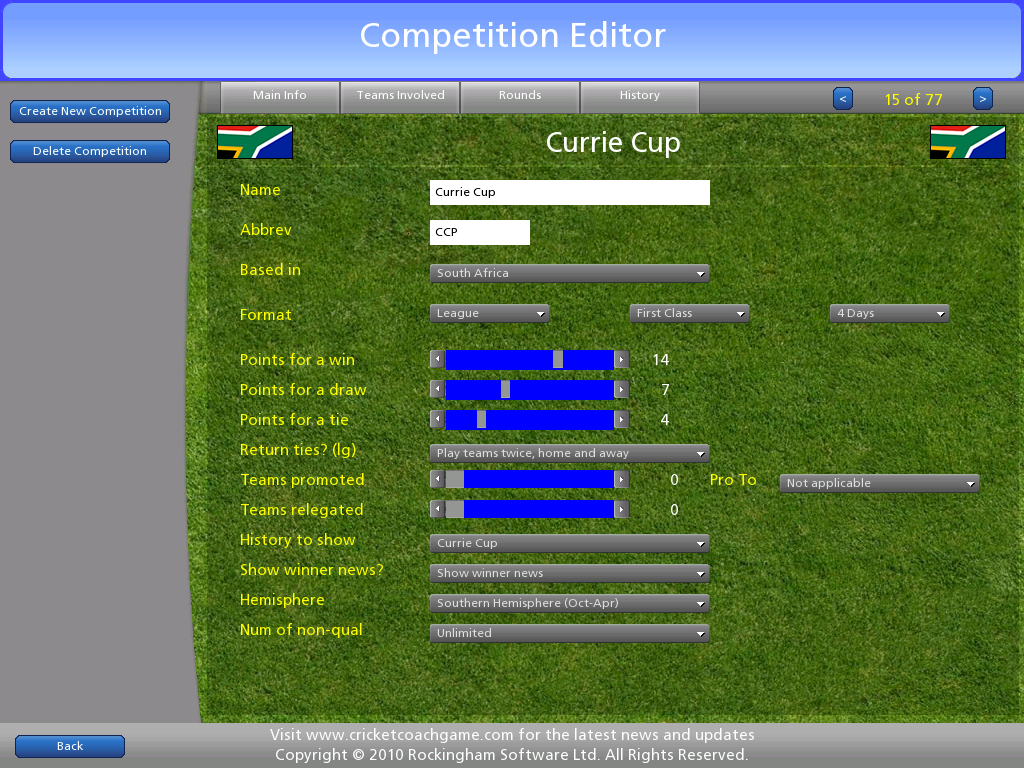 Once you are ready to play some cricket the fun begins. With this game you will need to have a grasp of cricket captaincy of course and be prepared to learn the ropes. Of course you can also play by just hitting the button and it will do it for you but you will always have a feeling that you are not in control, which is a shame because this game really gives massive depth of control and to really think about the game.
Cricket is essential a thinking game, especially for the captain and the coach. What is the pitch like? What is the form of my players? What is the form of the opposition? Who should I select to take full advantage of the weather, the pitch, the weaknesses of the opposition? Around the wicket, over the wicket? Bowl full, bowl short? Bowl on the stumps, bowl wide? How often? Where am I being attacked? Where do I spot a vulnerability? How to stem the flow of runs? How to score more quickly? How to pace my own batting innings? Which targets am I setting for a given part of play? When to settle for a draw? When to go all or nothing? What field to set and when?
These are the questions we love to toil with as cricket fans. And this game puts you right in the driving seat as you can answer each of these questions with a definite clear action. Of course in real cricket we don't always have the time to set things up perfectly. It is very intuitive. However it is a great joy to play with these things and to see if it makes a real difference or not. I find that I can play with the parameters and get results. Sometimes not of course. Like real life I have to think of something else!
After the match I can analyse every aspect of the game. I can pull up a mass of statistical information that will allow me to see whether my thinking was correct. Where were the most runs scored? How have my bowlers done their job? Did I read conditions right? Do I need to adjust things for the next match?
Guiding your team through a season, choosing players, getting rid of players, contracting players etcetera, etcetera give this game a long, long shelf life.
Nothing beats preparing for the next game, comparing all the stats with the upcoming opposition and conditions! You have to like that kind of thing of course.
So in summary:
What do I like about this game?
Statistical heaven
Massive, massive choice of teams and countries to play with
Massive game control giving real input to every aspect of the game of cricket both on and off the field
Huge edit-ability
Historic teams
Long shelf-life
On-going development and real innovation in each new version
What do I not like about this game?
Game engine can be erratic sometimes (is being worked on!)
Animations and sounds need to be drastically improved! (A similar type of game shows how it can be done!)
In conclusion, Cricket Coach 2011 is a brilliant piece of software that will give the addict plenty of enjoyment and intense involvement. Well worth the money. Try the demo and see for yourself. The game is an ongoing endeavour by Oli Norwell and I can honestly say that his real commitment to the game and those who buy it is second to none. You will not meet a more helpful, more involved game developer anywhere. If only Codemasters were like his company!