Joined

Jul 13, 2009
Location
Profile Flag

England
This is the release thread for the
Cricket Captain 2021 Editor
. This Editor is also fully integrated into the Cricket Captain 2021 Scout.
Please use this thread to download the latest version of the Editor and to report any issues.
WARNING
! This is the first editor release for Cricket Captain 2021. It may be unstable. Please back up your savegame if you don't want to risk corrupting it.
Screenshots
: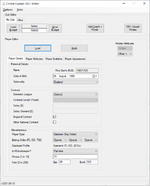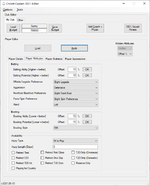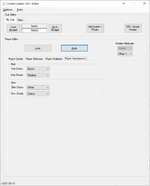 Quick Tips
:
Run Cricket Captain 2021.01 and load an Easy difficulty career mode game, or a Tournament game.
Run the editor.
Only "Load" or "Apply" the Player Editor while viewing that player in-game.
Only "Add Coach + Physio" while viewing the Coaching screen in-game.
It should be safe to "Load Budget", "Save Budget" and set "100% Squad Fitness" from just about any screen in the game.
If you change a player's role (batsman, bowler, all-rounder, keeper, opener, etc.) then always exit their profile in-game, then exit the next screen (so the correct team order is regenerated) before editing any other player.
Selection Editor: Only use this tool in the match start screen (just before the coin toss).
Squad Editor: Only use this tool when viewing the international squad you want to edit. Clicking "Load Players" launches the Scout, which allows you to filter a list of players to consider for selection. When you close the scout, the filtered player list will be copied back into the Squad Editor.
I haven't had any issues, but there is always a chance the editor could corrupt your savegame. Back it up if you don't want to risk losing it.
Please check the following FAQ before asking a question. I will update the FAQ with any new questions.
FAQ (PLEASE READ)
:
Q: Can I have the editor for a previous patch of Cricket Captain 2021?
A: No. There are editors for previous products (e.g. CC2018, CC2019 and CC2020), but you should always update your game to the latest patch to use the editor.
Q: Can I use this editor to cheat online?
A: No. The editor is not compatible with any game modes eligible for online play. At best, the Editor will crash if you try to edit a Normal mode game (and is likely to corrupt your savegame). The editor is a very simple memory editor that is easily detectable by Steam. If you try to edit online games, you will be banned. You have been warned - I am not responsible for any bans.
Q: Can I edit player ability?
A: Yes. You can offset by a specified +/- percentage, or randomize player ability (within specified limits). However, you cannot view ability or potential ability. (This limitation is requested by the game's developers).
Q: Does the editor run on Mac, Linux or mobile devices?
A: No. I have tested it in Windows 7 and 10. If there is high demand, then I could look into porting to other platforms.
Q: Where is the download link?
A: Click on the version name in the table below.
Q: How did you write this editor?
A: The original version was written (in C#) by Fe98 more than a decade ago, based on a huge community effort to reverse-engineer earlier versions of the game. They deserve most of the credit. I have just updated and added features.
Q: Is the editor finished?
A: No. There are a lot of features that I am still working on. Please feel free to suggest anything else you would like to see in the editor.
Downloads
:
| | | |
| --- | --- | --- |
| Version | Date | Description |
| 2021.00-01 | 03/07/2021 | First editor for Cricket Captain 2021 (beta release). |
| 2021.00-02 | 13/07/2021 | Update for full commercial release. |
| 2021.00-03 | 14/07/2021 | Bug fixes due to memory misalignment in player data record. |
| 2021.00-04 | 15/07/2021 | Fix bug in Scout (also affecting Selection Editor and Squad Editor). |
| 2021.00-05 | 17/07/2021 | Update for latest hotfix. |
| 2021.00-06 | 20/07/2021 | Update for hotfix 5. Fixed batting stats. Incorporated new Scout loading mechanism. |
| 2021.01-01 | 31/07/2021 | Fixed bug in Scout player loading after 1st season. |
| 2021.03-01 | 06/11/2021 | Update for v21.03 and fix support for demo. |
| 2021.03-02 | 01/01/2022 | Integrate Coaching Editor and other minor updates. |
| 2021.03-03 | 29/01/2022 | Integrate Scout version 2021.03-02. |
| 2021.04-01 | 05/02/2022 | Update for v21.04 including support for demo. |
Last edited: