England vs West Indies
- First Test at Headingley
England XI
Graham Gooch
Alec Stewart
Michael Atherton
Robin Smith
Graeme Hick
Chris Lewis
Jack Russell
Phillip DeFreitas
Darren Gough
Angus Fraser
Phil Tufnell
West Indies XI
Carl Hooper
Sherwin Campbell
Brian Lara
Jimmy Adams
Keith Arthurton
Richie Richardson
Junior Murray
Ian Bishop
Curtly Ambrose
Courtney Walsh
Kenny Benjamin
- - -
West Indies win the toss and choose to bat
- - -
The new era of English cricket - the Hick era, all being well - starts against a once-great West Indian team that is now very dependent on its fast bowling. The fast bowlers have always been the cornerstone of the West Indians' success, but to remain the world's top team they could really have done with a new generation of batsmen to replace the likes of Richards, Greenidge and Haynes. Instead, they start the series with Carl Hooper opening the batting, which isn't quite the same thing.
At least the West Indian batsmen were lucky enough to start their series on an absolute road of a wicket. And so it transpired, with both West Indian openers posting centuries on a day where the English bowlers took not a single wicket - a most inauspicious start to the Hick era. As far as positives go, things pretty much topped out when Phillip DeFreitas stopped Brian Lara from becoming the innings' third centurion, after which the wickets finally started to flow. Not fast enough to stop West Indies posting a massive 559 runs before being bowled out, but still - it was something. One notable achievement for England came when Chris Lewis trapped Kenny Benjamin LBW to claim his 100th Test wicket - he is now England's 33rd-highest all-time wicket taker.
The trouble is, a big total on the board and a slightly wearing wicket is exactly the sort of situation this West Indian bowling attack was made for; the four-man pace battery is an imposing prospect for any batsman, and the English batsmen were no different. Frustratingly, three of them did make starts: Stewart (49), Smith (52) and Hick (49 again) all made good starts to their innings, then each fell to a West Indian fast man. With all five main batsmen back in the pavilion and another 160 runs needed just to avoid the follow-on, it was just too big of an ask for Lewis and Russell on this occasion. By the end of the session, England were following on.
At their second attempt, they did considerably better with bat in hand. The ageing Gooch rolled back the years with a pleasing 73, before being completely upstaged by his opening partner. It might have been for a futile losing cause, but Alec Stewart's 11th Test century demonstrated that these West Indian bowlers could be tamed if England showed enough patience. One can but wish that the third-highest score of the innings was a bit more than Mike Atherton's 26. A classic England collapse was
not
what the doctor ordered. Stewart's innings was enough to force the West Indies to bat again, but not enough to leave them a chase that could prove challenging.
Fraser and DeFreitas each claimed an opener to add to their Test wickets collection, but it was scant - and belated - reward for their hours of first-innings toil.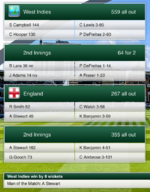 I'm also adding a Player of the Season award in the style of the Allan Border Medal - the
Barrington Medal
.
Drawn or lost match
Best player - 3 points
2nd best player - 2 points
3rd best player - 1 point

Won match
Best player - 5 points
2nd best player - 3 points
3rd best player - 2 points
4th best player - 1 point
Standings
1. Alec Stewart - 3 points (+3)
2. Chris Lewis - 2 points (+2)
3. Graham Gooch - 1 point (+1)
Last edited: