Following the recent test loss the West Indies suffered at the hands of England, attention has been cast towards the long standing omissions of key players from the West Indies roster. With the treatment of cricketers including Chris Gayle, Ramnaresh Sarwan and Jerome Taylor being brought back to light following the rant by former pace-man Michael Holding, one has to ask, why?
Former Captains Gayle and Sarwan have not turned out for the West Indies for nearly a year, with coach Ottis Gibson turning a blind eye to their excellent records in making outings for domestic teams. Particular Gayle, who took the Indian Premier League by storm this year for the Bangalore Royal Challengers, recently helping them demolish Delhi with an imperious unbeaten ton.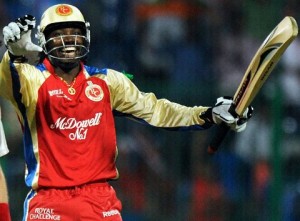 Gayle displaying his elation after guiding the RCB home.
He has been renowned for seeing it like balloon out there, taking home the accolades of the Orange Cap along with scoring the most 'Super Sixes' in the fifth edition of undoubtedly the most exhilarating Twenty20 tournament in the world. Sarwan, meanwhile, has impressed in his outings for in the County Championship for Leicestershire, churning out two centuries and two fifties for the side he says he is now happy at, and that the "county stint has helped him gain back his confidence, but would not turn down Leicestershire for the moment. "  News had emerged that Sarwan would not be looking to leave Leicestershire any time soon, mainly due the comments Gibson had reportedly directed towards him, which had "hurt him mentally". As a result, he has made it clear that he would not be walking out on his current team any soon, and that he owes them at least a full season because they had invested and put faith in him.
As for fast bowler Jerome Taylor, he has not been picked for the West Indies since his last match in June 2010 against South Africa. He was ruled out of the World Cup by the West Indies Cricket board due to a back injury and apparently had not been contacted about it since. He has unfortunately been forced to miss the whole of the 2011-2012 season.
The justification for these omissions are still not clear, Chris Gayle's inclusion in the Windies side is still on hold due to standing apparent 'residual matters' and according to Michael Holding, it is down to "People responsible for West Indies cricket do not want Chris Gayle in the team."   Coach Gibson has not made himself popular since his appointment and questions are being raised on his ability to maintain discipline within the side.