You-Know-Who
India
RCB...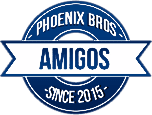 ​
A New Beginning:
Most of you might have noticed that
@AliB
& I have been managing & leading teams in PC official leagues for many years. 5 years ago, we floated our own team (The Amigos) that costed around 30 M vCash which was a huge amount at that time. We were badly trolled by older members and experienced PC League players. It seemed like a tradition because we were completely new to such things and purchasing the team that costed 30 M vCash made it even worse (because the next franchise was sold at mere 5M vCash or so)
We came up with an idea of having a team of brotherhood, shortly named as - Phoenix Bros. Since then we togather have managed the team under different names. We did terribly lose in our first official league. But were in the good position in the next season. We even won few formats across PCPL & TPCL. All thanks to amazing team members were had for all these years. Thank you

As I already mentioned in previous TCPL season, it was my last official league as an owner. Ali being very much busy with his studies and Me having a job that takes away my whole day due to night shifts,
I'm officially announcing that:
Phoenix Bros. is now disbanded.
Ashutosh has been with us for years and we have decided to hand over full ownership of the team to him. A communication regarding this has already been made to the management. Wish him all the best.

We (Ali & Me) will still be available to be picked up in auction and I assure you that whichever team bids for us will get quality players with a lot of experience:
Ali Bubere
, a specialist batsman (been a bowler in the past too), has one of the best strike rates across various formats. One of the most active participant in leagues. Get him and you don't have to worry about chasing mammoth totals.
Sod Anderson
, a Keeper-Batsman. Has one of the highest batting averages. Can keep wickets which is an added advantage and the experience he brings to your team is immense. Not to worry about his activity in the league threads.
Don't hesitate. Go nuts in the auction. Get us & you won't regret.
Note: Above message is a formal announcement of us, no longer managing the team and to pitch ourselves to the owners to pick us in the auction. Either seperately or togather, it's your choice.