Black Belt in Statsguru
Moderator
Ireland
PlanetCricket Award Winner
X Rebels
Joined

Sep 3, 2010
Location
South Africa (1) vs (1) England
- Third Test at Durban
South African XI
Gary Kirsten
Herschelle Gibbs
Jacques Kallis
Daryl Cullinan
Hansie Cronje
Lance Klusener
Shaun Pollock
Mark Boucher
Allan Donald
Paul Adams
Nantie Hayward
English XI
Michael Atherton
Alec Stewart
Nick Knight
Graham Thorpe
Nasser Hussain
Craig White
Paul Nixon
Dominic Cork
Julian Thompson (debut)
Alan Mullally
Phil Tufnell
- - -
South Africa win the toss and choose to bat
- - -
With the series now level at 1-1, the South Africans arrived in Durban with a huge desire to get back in front at the first opportunity. With this in mind, they brought back Paul Adams to have an extra bowling option in the team, at the expense of Jonty Rhodes' batting. On the other hand, England brought in South African-born Julian Thompson after Andy Caddick had struggled to find his length in the first two Test matches. The floppy-haired fast man will be wanting to make a big impression playing for his adopted country. Another storyline in the English ranks is that Phil Tufnell enters the Test match on 399 career wickets, just one behind Ian Botham's all-time England record. There is every chance that he will overtake Botham in this game and become the leading Englishman and fourth-highest all-time wicket-taker in Tests.
South Africa won the toss and batted again, and got off to a strong start with Kirsten's stoic 90 providing the backbone around which the likes of Kallis (62) and Klusener could play more aggressively. Either side of the tea interval, Tufnell claimed wickets #400 and 401: first by getting Cullinan to edge to Hussain at slip, then by drifting one into Cronje to have him caught at bat-pad. Tufnell's celebrations after each wicket were emotional and heartfelt, befitting the magnitude of an achievement that cements him as possibly England's greatest ever Test bowler. On the second morning, an England bowler had the opposite experience: Julian Thompson celebrating his first-ever Test wicket, that of the aggressive Lance Klusener. He would later add the tail-end scalps of Adams and Hayward to his tally to end the innings on 368.
In reply, England were very measured against the high pace of the South Africans. There were important contributions from Nick Knight at number three and Nasser Hussain at number five - this 70 marking Hussain's highest Test score so far in his 13-match career. Craig White and Paul Nixon (again) built upon their platform with scores of 46 and 57 not out respectively, but the crowning moment of the English first innings was undoubtedly the unexpected debut 50 made by Thompson. Playing against the best bowlers he had ever faced and surviving numerous appeals for LBW and caught behind, he reached his half-century with an unforgettable awkward poke through gully for four against the legendary Allan Donald. Thanks to this team performance, England trailed by only two runs at the halfway point in the game.
The South African second innings was precarious at one point as Alan Mullally tore through the top order, but partnerships between Gibbs and Cronje, then Cronje and Pollock were enough to ensure that yet another excellent spell of left-arm seam bowling was a virtuoso effort rather than being part of a bigger burst of English momentum. Half an hour into day five of the game and a comfortable 335 runs in front, Cronje declared the innings to try to push for his team's second victory of the series.
Despite their best efforts though, the pitch was still a good one for batting on. Not only did Knight, Thorpe and Hussain successfully absorb all the pressure South Africa could throw at them, but Knight even turned it into a superb century: his fourth overall, and third against South Africa. Given that the other one came against Zimbabwe, the Warwickshire left-hander must really like batting against sub-Saharan white dudes.
His efforts were more than enough to secure the draw and ensure that England don't lose their last Test in the 1990s.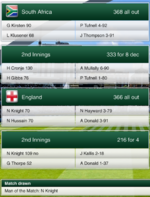 I'm also adding a Player of the Season award in the style of the Allan Border Medal - the
Barrington Medal
.
Drawn or lost match
Best player - 3 points
2nd best player - 2 points
3rd best player - 1 point

Won match
Best player - 5 points
2nd best player - 3 points
3rd best player - 2 points
4th best player - 1 point
Standings
1. Alan Mullally - 8 points (+2)
2. Graham Thorpe - 6 points
3. Paul Nixon - 4 points
4. Nick Knight - 3 points (+3)
5. Dominic Cork - 1 point
=. Dr Julian Thompson - 1 point (+1)