Pakistan A v New Zealanders - 4 day match - at Rawalpindi - 1980/1 - Pakistan A 1st Innings
Contrasting hundreds to Mudassar Nazar and Wasim Raja set up a strong Pakistan A total of 340 all out.
The last wicket pair of Iqbal Qasim and Sikander Bakht frustrated the New Zealanders in adding 44 to swell the lead to 94.
Ewan Chatfield was the best of a steady New Zealand attack, while offspinner John Bracewell's form would be a concern heading into the Tests.
Pakistan A 1st Innings 340/10 All Out (Overs 120.2)
| Batsman | Fieldsman | Bowler | Runs | Min | Bls | 4s | 6s |
| --- | --- | --- | --- | --- | --- | --- | --- |
| Mudassar Nazar | | b MC Snedden | 100 | 257 | 215 | 8 | 0 |
| Mohsin Khan | c JFM Morrison | b MG Burgess | 15 | 63 | 55 | 2 | 0 |
| Mansoor Akhtar | c WK Lees | b MG Burgess | 2 | 8 | 9 | 0 | 0 |
| Majid Khan* | c JFM Morrison | b JG Bracewell | 28 | 76 | 77 | 1 | 0 |
| Haroon Rasheed | c WK Lees | b EJ Chatfield | 0 | 3 | 2 | 0 | 0 |
| Wasim Raja | c JFM Morrison | b EJ Chatfield | 108 | 187 | 143 | 10 | 2 |
| Wasim Bari+ | | b MC Snedden | 24 | 94 | 74 | 1 | 0 |
| Sarfraz Nawaz | lbw | b EJ Chatfield | 0 | 2 | 1 | 0 | 0 |
| Tauseef Ahmed | | b EJ Chatfield | 2 | 19 | 9 | 0 | 0 |
| Iqbal Qasim | not out | | 29 | 103 | 73 | 0 | 0 |
| Sikander Bakht | | b BL Cairns | 22 | 88 | 73 | 0 | 0 |
| extras | | (b2 lb0 w6 nb2) | 10 | | | | |
| TOTAL | | 10 wickets for | 340 | | | | |
FOW
1-37(Mohsin Khan) 2-39(Mansoor Akhtar) 3-100(Majid Khan) 4-104(Haroon Rasheed)
5-229(Mudassar Nazar) 6-286(Wasim Raja) 7-286(Sarfraz Nawaz) 8-288(Wasim Bari)
9-296(Tauseef Ahmed) 10-340(Sikander Bakht)
| Bowler | Overs | Maid | Runs | Wkts |
| --- | --- | --- | --- | --- |
| EJ Chatfield | 32 | 8 | 70 | 4 |
| MC Snedden | 25 | 6 | 70 | 2 |
| BL Cairns | 19.2 | 2 | 54 | 1 |
| JG Bracewell | 27 | 3 | 99 | 1 |
| MG Burgess | 12 | 4 | 32 | 2 |
| JFM Morrison | 5 | 1 | 13 | 0 |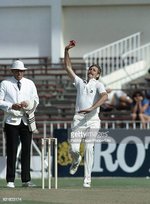 Ewan Chatfield took 4 wickets for the New Zealanders