Joined

Jul 13, 2009
Location
Profile Flag

England
This is the release thread for the
Cricket Captain 2020 Scout
. This is fully integrated with the Cricket Captain 2020 Editor (just double-click any player in the Scout). For the main Editor release thread, please visit
this link
.
Please use this thread to download the latest version of the Scout and to report any issues.
As with the Editor, full credit goes to Fe98 for writing the original C# code more than a decade ago.
Screenshots
: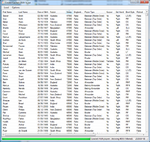 Quick Tips
:
Run Cricket Captain 2020.08 and load an Easy difficulty career mode game, or a Tournament game.
Run the Scout.
Click "Load" in the Scout.
Click "Options" to change the displayed columns and to filter results.
Click any column title to sort players by that value.
Double-click any player to launch Editor for that player.
Downloads
:
| | | |
| --- | --- | --- |
| Version | Date | Description |
| 2020.07-01 | 06/07/2020 | First public release. |
| 2020.08-01 | 08/07/2020 | Update for patch 20.08. |
| 2020.08-02 | 12/07/2020 | Integrated editor update 2020.08-02. |
| 2020.09-01 | 20/07/2020 | Update for patch 20.09. Integrated editor 2020.09-01. |
| 2020.09-02 | 22/07/2020 | Fixed issues with demo 20.091. |
| 2020.10-01 | 06/08/2020 | Update for patch 20.10. Added several missing nationalities. |
| 2020.10-02 | 10/08/2020 | Integrated editor 2020.10-02. |
| 2020.11-01 | 20/08/2020 | Update for patch 20.11. |
| 2020.14-01 | 14/03/2021 | Update for patch 20.14. Integrated editor 2020.14-01. |
Last edited: