Howdy Folks,
As promised earlier, Here is my very first wallpaper tutorial. The subject here used is Andrea Pirlo.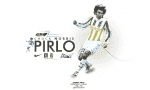 ​
I made it keeping in mind the needs, knowledge & the understanding of beginners about PS. Version of Photoshop I used is CS5. Since NO texture is used in this wallpaper so all you have to depend upon the PS tools. Also I'll not be providing you any link of the render. So you have to do a bit of an extra work

. This tutorial shows a simple but yet effective way of using the pen tool; Drawing hard ended curves, soft ended curves etc. I think I was able to cover all points but if any still left. Please do notify me. Moreover if you got stuck at any point or you have a query regarding PS; Post immediately in the thread itself.
I should have posted the tutorial in a regular way. But ATM got stuck with other work. So Below is the PDF given. Download it , Follow it word by word & post your aftermath in the thread.
Hope you find it helpful.
Thanks

NOTE : PLEASE DO NOT RIP !!!!