So I've made a new thread as I don't want to clog the transfer thread with my writings that may or may not be related to transfers. If there's a better place for this do please let me know but for now I've put it here.
First up, an evaluation of the windows for the Premier League clubs! I'll do 10 in this post, 10 in a later post.
Arsenal
Key look: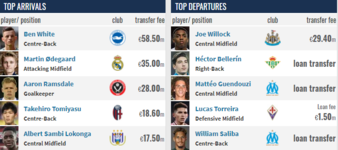 The good: Deadwood was successfully cleared out. The time for Bellerin was now, Willian and David Luiz were Chelsea fleecing their neighbours and they've returned home, and there's also Dejan Iliev's yearly loan. In addition, Martin Odegaard is an attacking dynamo, while Tomiyasu, Sambi Lokonga and Nuno Tavares are good players on good-value deals.
The bad: Where do we begin? They still have a bit of deadwood, but more concerningly, they have a wantaway AMN, as well as having spent nearly 100M on Ben White (who isn't that valuable) and Aaron Ramsdale (who's yet to have a full senior campaign without being relegated). And that PL start. And selling Joe Willock (although Newcastle did overpay slightly).
Rating: C, if only for getting rid of Willian and Luiz, and bringing in Odegaard and Tomiyasu to replace them.
Aston Villa
Key look: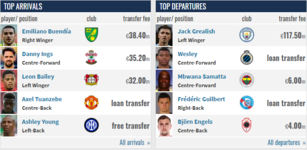 The good: The 118M they got for Grealish has been reinvested. They've bought an entirely new front line in Leon Bailey, Danny Ings, and Emi Buendia, as well as club legend Ashley Young and promotion team member Axel Tuanzebe returning. None of their incomings are bad. They also moved players without a future (Samatta, Hourihane, Engels) and, while Ahmed Elmohamady and Neil Taylor are club icons, it was their time to go.
The bad: Selling Grealish, although the club got a good fee for him. The only question I have is whether they would have been better off not signing Bailey and instead picking up a defender.
Rating: B+. Nobody likes losing their star player but Villa have capitalised on a too-high offer from City to improve the team overall.
Brentford
Key look: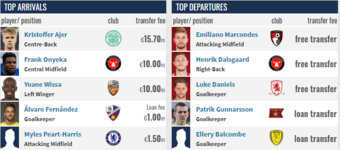 The good: Smart additions, as Brentford fans expect now. Ajer is good enough, Onyeka is good enough and both are Danish or have played in Denmark, which is the scouts' specialties. Yoane Wissa strikes as an odd addition but so did Vitaly Janelt and he scored the promotion winning goal if I remember correctly. In addition, not losing Ivan Toney!
The bad: Generating zero dollars in sales could be a problem but even more so is losing another promotion hero, Marcondes, on a free. I sense though there's a chance they'll see him in the Prem next year...
Rating: B+. Smart spending and Brentford? It couldn't be!
Brighton and Hove Albion
Key look: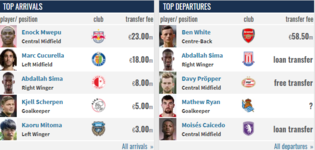 The good: Like AVFC, they shifted a star player for ludicrous money (Ben White) and spent the money wisely to upgrade the squad. Mwepu looked like a replacement for another player rumoured to go for a similar fee (Bissouma) but he'll likely take the role of Propper instead. Sima, Scherpen and Mitoma have good potential and Cucurella is another great creative player who will further improve their xG dominance of the league.
The bad: Is either Scherpen or Robert Sanchez better than Mat Ryan? I may be biased here, but I think not. Also, the failure to bring in a centre-back to replace White is concerning (although the club probably think that the returning Duffy can do this role).
Rating: B. Possible downgrades in the defence are cancelled out by solid upgrades to the midfield.
Burnley
Key look: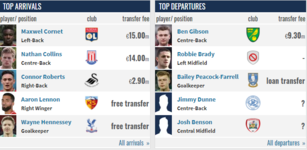 The good: They haven't sold for selling's sake. Ben Gibson's loan became permanent, and the only other senior player to leave permanently was Robbie Brady. In addition, replacing Gibson with Nathan Collins was fairly clever, and Maxwel Cornet is a all-around threat who the club broke their record for. Roberts is a smart signing.
The bad: This team finished 17th and nobody significant was added, barring Cornet. They could be in for a relegation scrap again.
Rating: C. It's hard to fail a team that broke its transfer record, and did so shrewdly, but the lack of meaningful additions aside from him could spell danger.
Chelsea
Key look: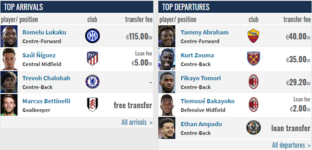 The good: Two additions but they're both good ones. Romelu Lukaku will bring goals (although Chelsea management will be regretting losing him all those years ago) and Saul Niguez (the deal that broke down, then didn't, then did, then happened) is a good player as well. Also, the names they got rid of: Zappacosta and Moses were good in their day but that was a long time ago, and Kenedy, Emerson and Bakayoko still generate money for them!
The bad: Marcus Bettinelli? Not a great keeper even in the Championship. Better options were available. And the sale of Abraham and Tomori - the issue isn't the 70M raised, it's the loss of two young and homegrown players.
Rating: B. Splashing the cash again, but they did bring in as much as they spent this time.
Crystal Palace
Key look: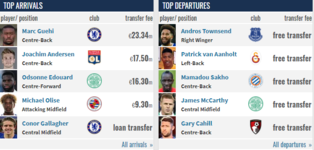 The good: Bang-bang-bang-bang! Four great permanent transfers. Guehi is probably an overpay, but the other three are on value and all four fill needs (centre-back, striker, and an AM prospect as a holdover for Eze). Add to this Conor Gallagher and Will Hughes, and getting rid of some non-contributors and veteran deadwoods (Cahill, Scott Dann, Wayne Hennessey, Mamadou Sakho) sees this a successful window for the Eagles.
The bad: Three things. One, Guehi is probably an overpay as I said above. Two, they still only have one dedicated winger (granted that's Wilf Zaha, but...) And third, Patrick Vieira is not a PL level manager. Could that be their biggest weak link?
Rating: B+. It'll be more about the coach than the players to whether they stay up but the business they've done says that they have a fighting chance.
Everton
Key look: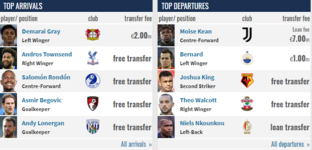 The good: This window was a financial success, with Moise Kean's
loan
costing more than the total of their spending. That didn't stop good business - all of the outgoings were players who failed to perform or who were not good enough/anymore (aside from Kean, who wanted away). And adding Andros, Rondon and Begovic was smart.
The bad: Andros, Rondon and Begovic are good, but James, Allan and Doucoure they are not. Plus, is Demarai Gray really good enough? And this doesn't mention the likely loss of Gylfi Sigurdsson for reasons I don't want to discuss.
Rating: B-. Nothing bad, nothing outstanding.
Leeds United
Key look: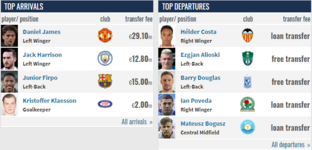 The good: Jack Harrison and Junior Firpo on permanent deals that cost less than Dan James. They're good players. Also, the departures of a ton of players not of use at PL level.
The bad: They only have 20 players. Also, they hugely overpaid for Dan James. He's worth 18M!
Rating: C-. They did nothing, although you could argue the greatest success of the window is keeping hold of Bamford and Phillips.
Leicester City
Key look: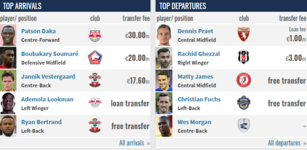 The good: Leicester's scouting department is second only to Brentford's and they showed why again. Daka, Soumare and Vestergaard are all very valuable editions, Bertrand plugs a gap left by Fuchs leaving, and they got rid of a rare mistake in Ghezzal.
The bad: I have the same concerns about Lookman as I do about Gray (interestingly, they played for each other's new clubs before going to Germany).
Rating: A-. A great window but do you expect anything else?