Survival Games Finalist
Survival Games Finalist
Joined

Jan 3, 2018
Location
Profile Flag

England

​
England down Jamaica inside two days for comfortable win

​Joe Root's side once again dismiss the hosts for double digits in tour's only warm up, but questions remain about the team's batting unit

England's four-day game against Jamaica concluded on day two as the tourists won by a comfortable 255 runs.

After making 226 in their second innings, Joe Root's side set the hosts an unlikely 331 to win before once again ripping through their ranks to skittle Jamaica for 75 all out.

Man of the match honours went to England opener Rory Burns who scored 58 and 34 across the two innings on a pitch that proved difficult to bat on throughout.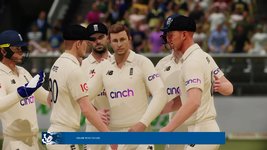 England started the day on 12-0 and both Burns and Tom Haines batted well throughout the morning session to amass an opening stand of 91.
Surrey man Burns fell to the finger spin of Jamie Merchant, who picked up 4-56, but Haines went on to make a solid half century, eventually getting out for 58.
Ollie Pope (33 from 82) and Harry Brook (28 from 35) both enjoyed starts before departing prematurely, suggested there could be life to England's new middle order if they can find their feet once the test series begins.
With the hosts taking to the field for the match's final innings just before tea, Mark Wood once again set the tone as he got Jamaica's captain John Campbell with a feisty short ball, ballooned up off a back foot prod to the waiting Stuart Broad at mid-off.
Broad himself would then get into the action, taking the wickets of opener Alwyn Williams then Nkrumah Bonner, plus Denis Smith and Derval Green for ducks.
The Nottinghamshire man finished with figures of 11-4-4-24, with Wood chipping in 2-19 off 11.
Captain Joe Root brought himself on late in the day, nabbing Andre McCarty, Marquino Mindley and fellow spinner Jamie Merchant for the useful return of three wickets for four runs to wrap proceedings up without the need for day three.
England's Stuart Broad said:
"Credit to the boys, we did what we needed to do here and got some good cricket under our belts.

"If anything the weather was too good, I think it rose above 35 degrees at one point today, but maybe that spurred us on to get off the field faster with the ball!

"We all know what is expected of us, and we'll be working hard between now and that first test in Bridgetown to make it into a reality."
Head coach Mike Hesson added:
"It's a start, and we did play some good cricket. As I said in the build up to this tour, we want to see long term success with this unit but that is created by making sure we maximise the opportunities that come our way.

"We bowled well, the batting will need some work despite what appeared a difficult strip. That's fine, it's work we can do between now and the first test and another opportunity to tackle what is put in front of us by the West Indies"
The first test is set to get underway on Tuesday 8 March from Kensington Oval, Bridgetown, Barbados.